Alaskan Humor
z In Alaska a sense of humor is quite necessary. z
You know you're an Alaskan when...
z. . .you know the 4 seasons: Winter, Still Winter, Almost Winter, and Construction.

z. . .you know which leaves make good toilet paper.

z. . .the mayor greets you on the street by your first name.

z. . .there is only one shopping plaza in town.

z. . .the municipality buys a Zamboni before a bus.

z. . .the major parish fundraiser isn't bingo - its sausage making.

z. . .you find -60c a might chilly.

z. . .the trunk of your car doubles as a deep freeze.

z. . .you attended a formal event in your best clothes, your finest jewels and your Sorrels.

z. . .you can play road hockey on ice skates.

z. . .shoveling the driveway constitutes a great upper body workout.
zzzzzzzzzzzzzzz

We're always looking for new jokes so please, share your favorites!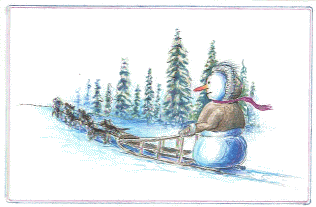 Email:
Shot from the USS HONOLULU
(Los Angeles-class fast attack submarine) at the Arctic Circle , 280 miles from the North Pole.